Title:Ana" (アナ), Ana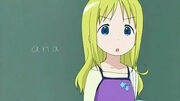 Airdate:July 21, 2005
Matsuri gets a new classmate, Ana, an English girl with fair hair and blue eyes, who decides that after some unpleasant experience in her previous school she will pretend to know nothing about Japan or Japanese. The only problem is that she has already been in Japan for five years and her parents use Japanese at home, so her English is very far from perfect.
Adapted From
Edit
Referbacks
Edit
Cultural References
Edit
Unanswered Questions
Edit
Memorable Moments
Edit
Ad blocker interference detected!
Wikia is a free-to-use site that makes money from advertising. We have a modified experience for viewers using ad blockers

Wikia is not accessible if you've made further modifications. Remove the custom ad blocker rule(s) and the page will load as expected.